Housing Stats for April, 2017
Low Inventory Affecting Sales
The number of new listings added to the market in April fell 17.1 percent compared to last year, according to data released by the Ann Arbor Area Board of REALTORS®. 497 new single-family residential listings were posted in April, compared to 605 a year ago.Total listings, including all property types, are down 20 percent. 696 new listings were recorded in April 2017, compared to 868 in April 2016. The biggest drops year-over-year were seen in vacant land and residential property types.
Low inventory is beginning to affect the number of sales. 267 single-family residential homes were sold in April 2017, a drop of 3.6 percent over the 277 sold in April 2016. Total sales of all property types showed a drop of 1.6 percent for April, with 364 sales compared to 370 last year.
Listings are selling faster. The average number of days for residential listings to sell was 36 days in April, compared to 52 days a year ago.
Prices continue to rise due to low supply and high demand. The average listing price for April 2017 was $320,335, an increase of 10.6 percent over the listing price of $289,601 in April 2016. The average sale price in April was $316,951, a jump of 11.1 percent over the April 2016 average sale price of $285,157. 40 percent of listings sold above list price, 19 percent of listings sold at list price in April.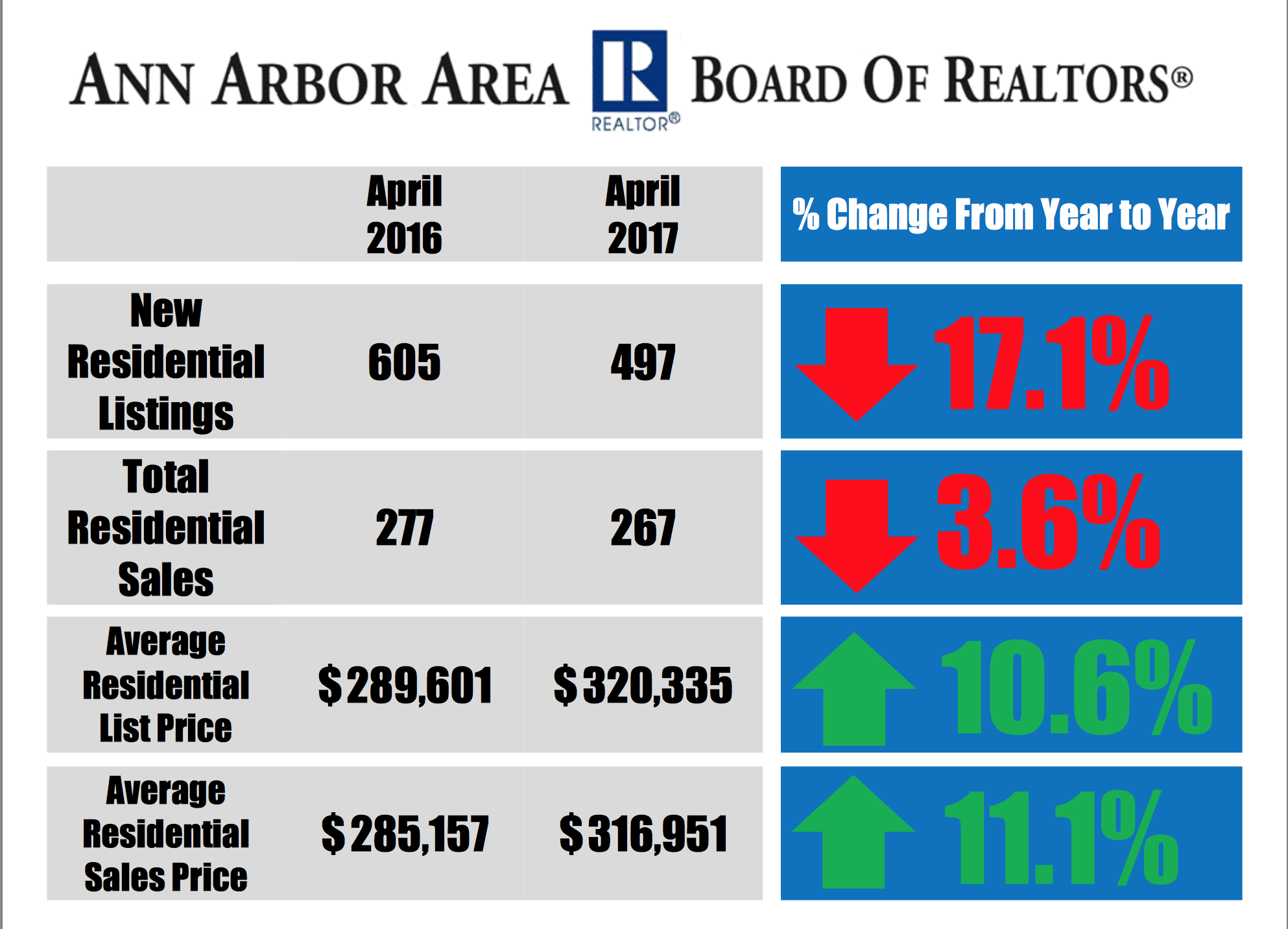 Lawrence Yun, Chief Economist for the National Association of Realtors noted that "last month's swift price gains and the remarkably short time a home was on the market are directly the result of the homebuilding industry's struggle to meet the dire need for more new homes. A growing pool of all types of buyers is competing for the lackluster amount of existing homes on the market. Until we see significant and sustained multi-month increases in housing starts, prices will continue to far outpace incomes and put pressure on those trying to buy."